Welcome to PNY Lighting

PNY Lighting
commercial hallway office acrylic black white modern pendant light nordic danish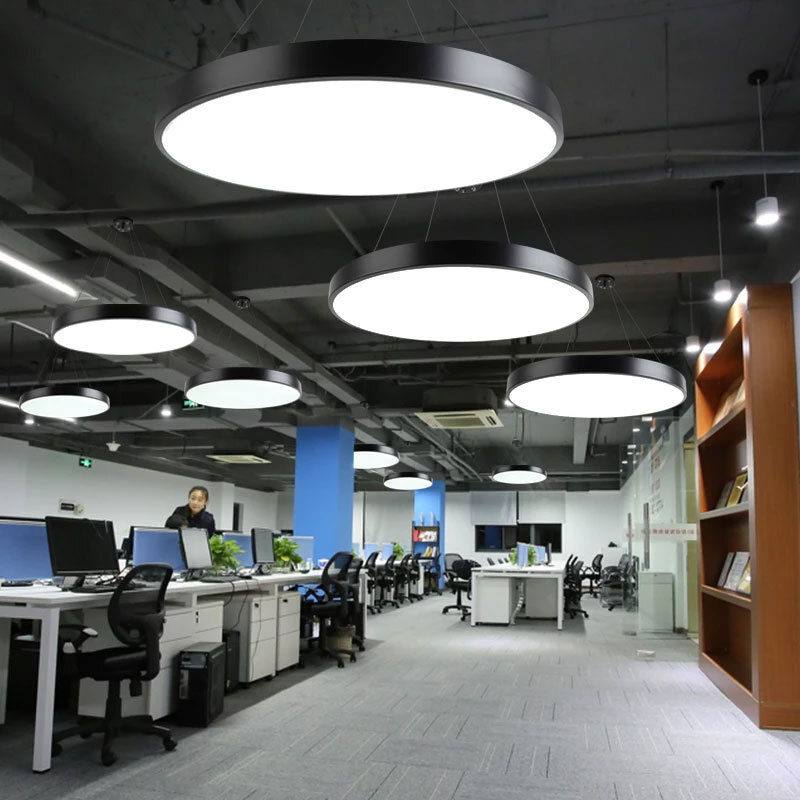 commercial hallway office acrylic black white modern pendant light nordic danish product feature:
1. Ultra narrow aluminum alloy frame design, large luminous surface, appropriate height design, make the whole lamp round and full,Die-casting aluminum ADC12 for housing and heat skin,good texture,superior heating output.
2. Imported chips-Taiwan Everlight 2835,high brightness,long life span.Bottom luminous design, fully meet the requirements of heat dissipation, high brightness, good consistency, small light
3. AA grade eye protection design,PMMA diffuser with high transmittance, good light source comfort, low blue light harm, uniform illumination, no stroboscopic.CRI>80,the goods can be shown near to its own color.Close to the Nippon paint surface treatment,smooth,bright and clean.
4. One lamp dual use: suitable for ceiling type installation and suspension type installation
5. Multiple sizes: Φ 175mm, Φ 210mm, Φ 250mm, Φ 350mm, Φ 400mm, Φ 500mm, Φ 600mm, Φ 800mm, Φ 1000mm
6. Various light distribution modes are available:
1> Regular style
2> 0-10V dimming
3> 0、10%、40%、100% Sectional dimming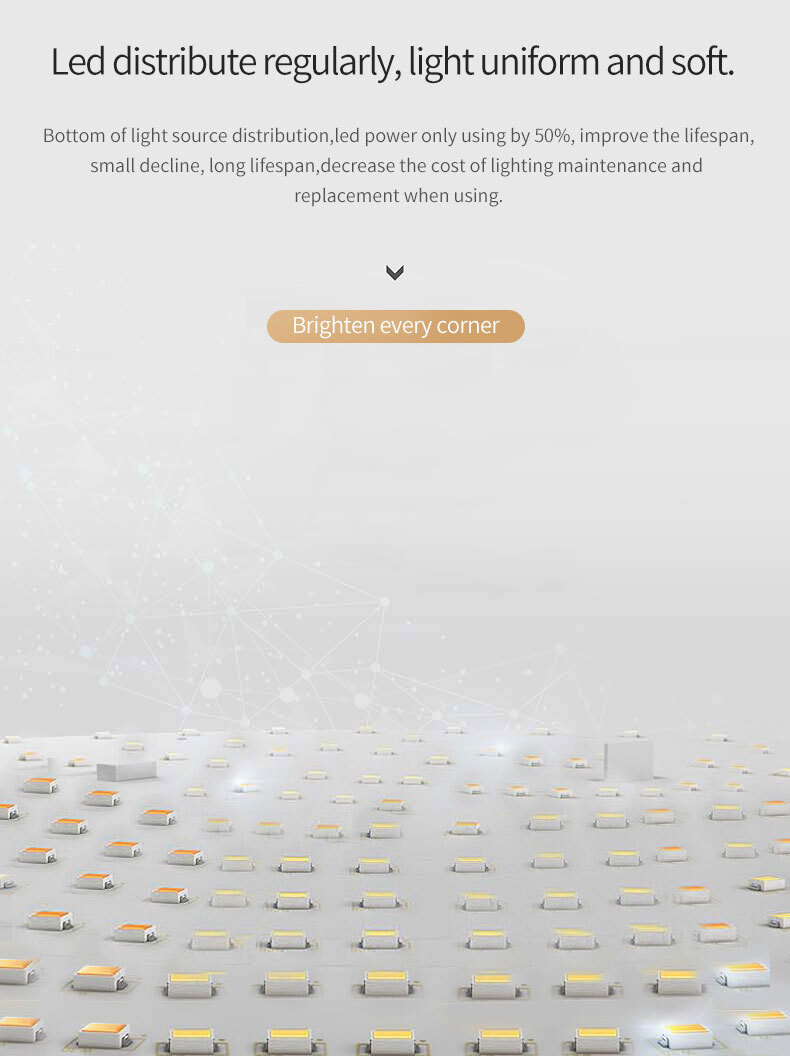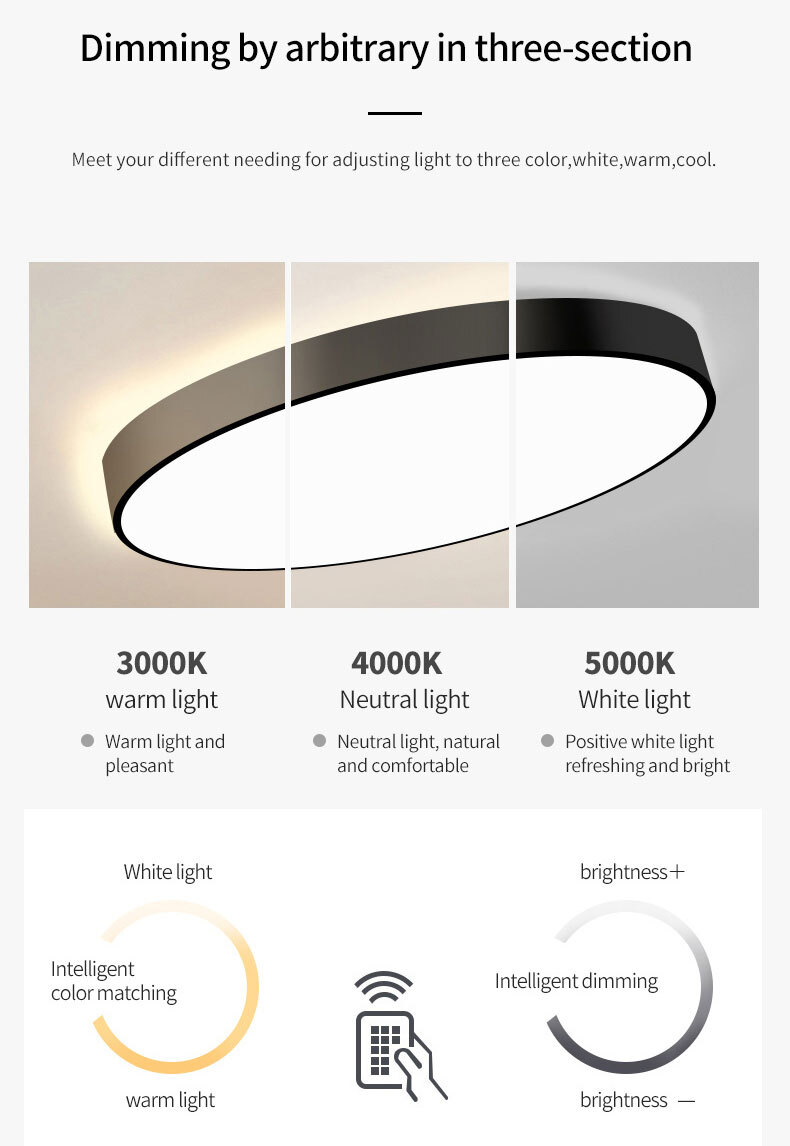 commercial hallway office acrylic black white modern pendant light dimming by arbitrary in three-section meet your different needing for adjusting light to three color,white,warm,cool:
1,3000k:warm white warm light and pleasant
2,4000k:neutral light neutral light,neutral and comfrotable
3,5000k:white light positive white light refreshing and bright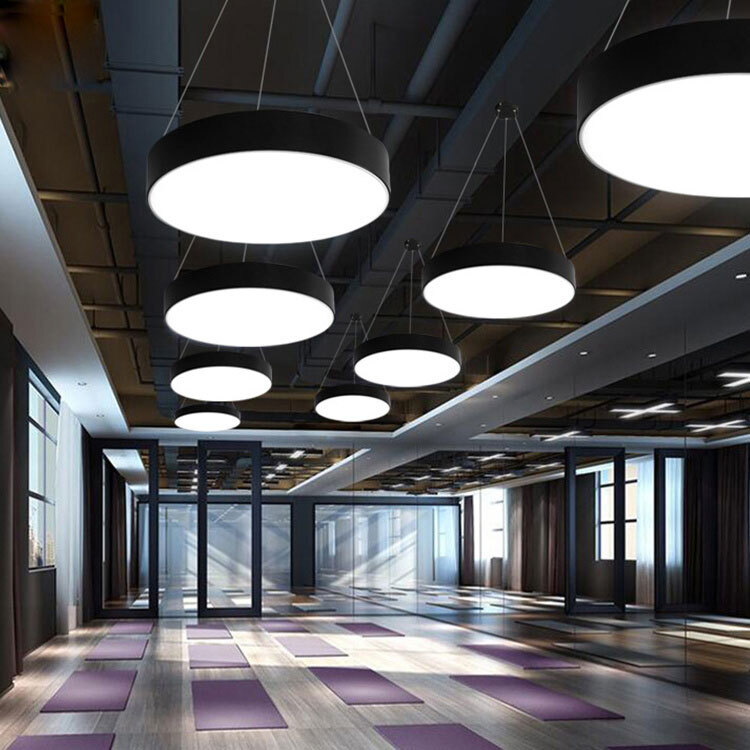 | | | | | | | |
| --- | --- | --- | --- | --- | --- | --- |
| Product model | Dimensions specifications | Power | Electric current | Voltage | Light efficiency | Packing number |
| LTD0291-16WY | Φ175*H41mm | 16W | DC400mA | 20-40V | 80-90Lm/W | 12 |
| LTD0291-20WY | Φ210*H41mm | 20W | DC500mA | 27-40V | 80-90Lm/W | 10 |
| LTD0291-30WY | Φ250*H41mm | 30W | DC700mA | 20-43V | 80-90Lm/W | 8 |
| TD0291B-30WY | Φ350*H59.5mm | 30W | DC800mA | 24-42V | 100-110Lm/W | 6 |
| TD0291B-40WY | Φ400*H59.5mm | 40W | DC1000mA | 24-42V | 100-110Lm/W | 4 |
| TD0291B-50WY | Φ500*H63.5mm | 50W | DC1050mA | 24-48V | 100-110Lm/W | 2 |
| TD0291B-60WY | Φ600*H63.5mm | 60W | DC1400mA | 26-43V | 100-110Lm/W | 2 |
| TD0291B-80WY | Φ800*H79mm | 80W | DC1500mA | 36-54V | 100-110Lm/W | 1 |
| TD0291B-100WY | Φ1000*H79mm | 100W | DC1800mA | 27-56V | 100-110Lm/W | 1 |
| TD0291B-30WF | L350*W350*H63.5mm | 30W | DC800mA | 24-42V | 100-110Lm/W | 4 |
| TD0291B-40WF | L400*W400*H63.5mm | 40W | DC1000mA | 24-42V | 100-110Lm/W | 2 |
| TD0291B-50WF | L500*W500*H63.5mm | 50W | DC1050mA | 28-48V | 100-110Lm/W | 2 |
| TD0291B-60WF | L600*W600*H63.5mm | 60W | DC1400mA | 26-43V | 100-110Lm/W | 2 |
| TD0291B-80WF | L800*W800*H70.5mm | 80W | DC1500mA | 36-54V | 100-110Lm/W | 1 |
commercial hallway office acrylic black white modern pendant light installation: